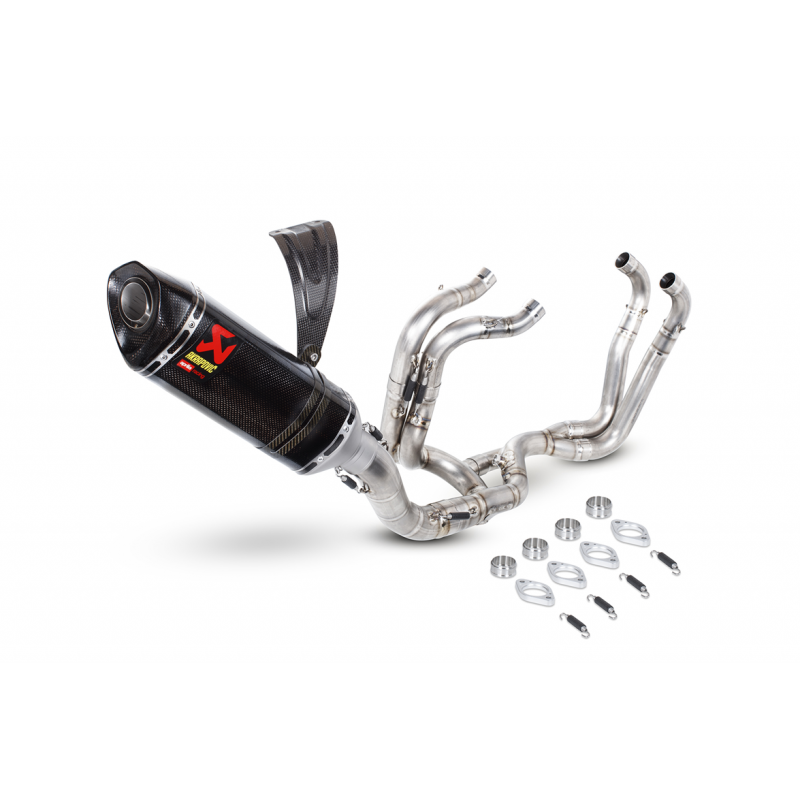  
AKRAPOVIC EVO 1 racing complete exhaust kit
Complete Akrapovic racing exhaust system for track use made entirely from titanium with oval muffler in carbon. The cylinder head mating flanges are machined from solid billet aluminium while the silencer mounting brackets are in carbon fibre. The whole system weighs less than 5 kg and delivers a healthy increase in torque above 4,500 rpm, which is particularly notable from 4,500 to 8,000 rpm, significantly improving acceleration out of turns. Includes dedicated ECU mapping (with three R/S/T settings) to exploit the full potential of the exhaust. Unlike the standard ECU mapping, all three R, S and T maps deliver unlimited power - the S ECU mapping offers smoother response, whereas the R mapping limits torque in the first three gears. For track use only.
FOR RACE USE ONLY. NOT HOMOLOGATED FOR STREET USE. Inclusive of a specific code that, together with a password, allows the download of the specific racing map for the vehicle OEM ECU, in order to utilize this exhaust. Use of the code and password on Piaggio Service platform. Carbon and titanium
Specifikationer
Datablad
RSV4 RF

2015
2016
2017
2018
2019
2020

RSV4 RR

2015
2016
2017
2018
2019
2020
Din uppskattning av recensionen kan inte skickas
Anmäl kommentar
Är du säker på att du vill rapportera den här kommentaren?
Rapporten har skickats
Din kommentar har blivit tillagd och kommer att vara synlig efter att den blivit godkänd av en moderator.
Din rapport kunde inte skickas
Recension skickad
Din kommentar har blivit tillagd!
Din recension kunde inte skickas