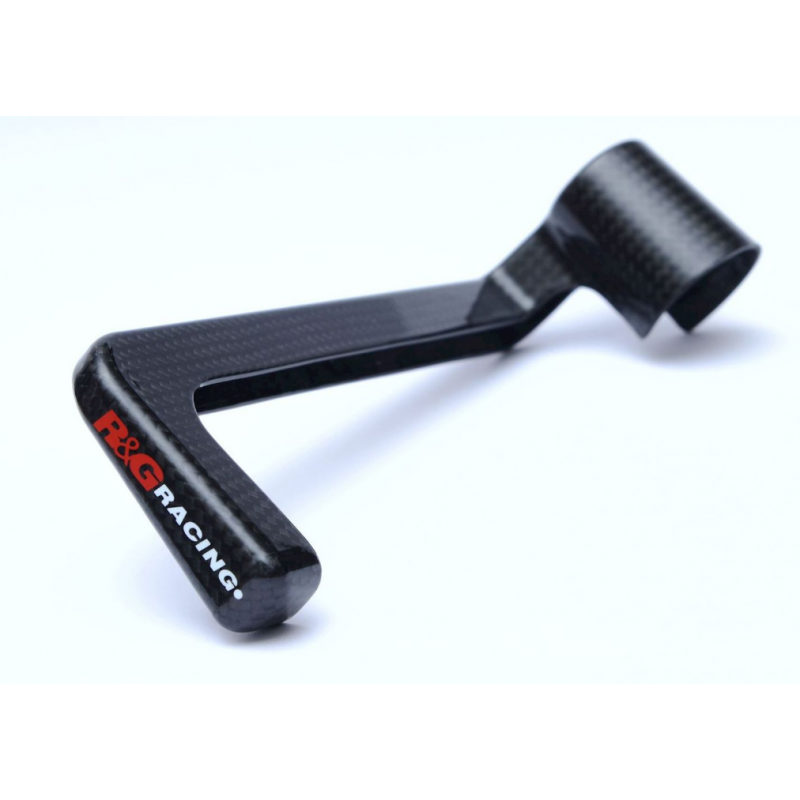  
Pure carbon fibre Brake Lever Guard, Aprilia RS660 21-
R&G Lever Guards are stylish, easy to install, and, much like all R&G products, unbelievably strong, offering serious protection. You'll see R&G Lever Guards being used worldwide by some of the world's best race teams. Our Range of Lever Guards includes Carbon Lever Guards, Moulded Lever Guards, and Brake Lever Guards. 
Originally conceived in Moto2 but now adopted by almost every motorcycle body worldwide (ACU, MSVR, FIM, AMA) and required for racing, the 'Lever Guard' was developed to help avoid the accidental engagement of the front brake lever during close wheel to wheel racing (either from accidental contact with another bike or even a rider) but can equally be applied to road riding, protecting your lever(s) from wing mirror strikes while filtering; again potentially causing front brake engagement. Easy to install (fitting just like an R&G Bar End Slider) installation takes only seconds.
The specially designed super lightweight, yet super strong carbon fibre arm covers the end of the brake lever, plus its unique kink at its base allows your hand to fall cleanly off the handlebar grips should you be involved in an accident or crash. Like so many race-oriented products, these once quirky race bespoke products have now worked their way from the track to the road; so whether you're a professional racer, a track day enthusiast or simply a road rider! An R&G Lever Guard is a must-have accessory.
This Carbon Fibre Lever Guard kit has been specifically designed for the Aprilia RS660 '21- models.
Specifikationer
Datablad
RS 660

2021
2022
Din uppskattning av recensionen kan inte skickas
Anmäl kommentar
Är du säker på att du vill rapportera den här kommentaren?
Rapporten har skickats
Din kommentar har blivit tillagd och kommer att vara synlig efter att den blivit godkänd av en moderator.
Din rapport kunde inte skickas
Recension skickad
Din kommentar har blivit tillagd!
Din recension kunde inte skickas