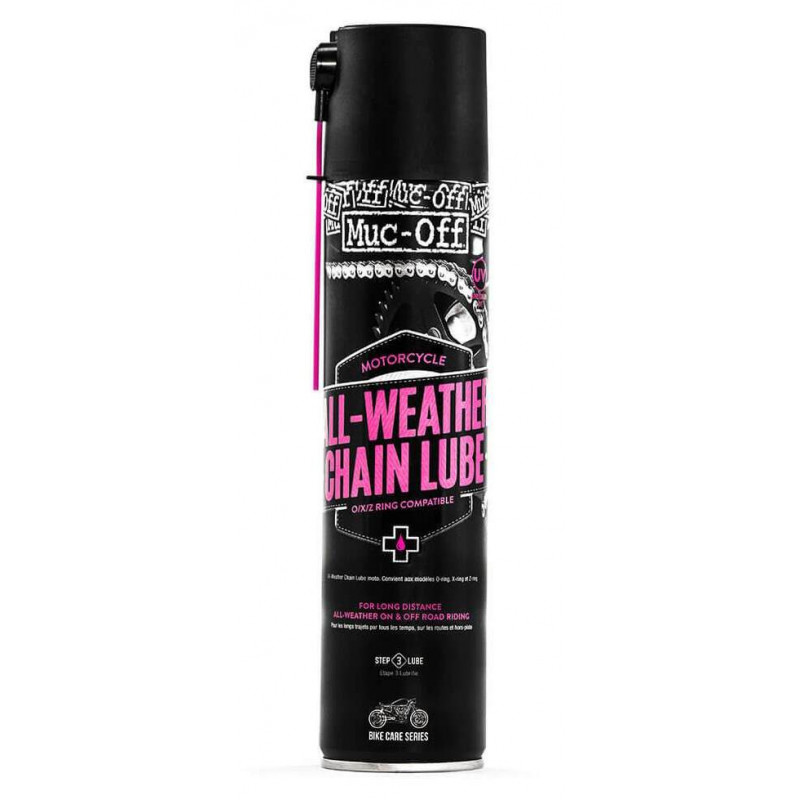  
Motorcycle All Weather Chain lube 400ml
May we introduce our new high performance, state of the art motorcycle chain lubricant – Ceramic All-Weather Chain Lube.
After years of research and development we identified that there were some big differences with what riders want and need from a chain lubricant. After all, Racing motorcycles, touring motorcycles and off road machines are all going to have different chain lube requirements. Muc-Off Ceramic Chain Lube is the first of its kind and is set to revolutionise chain efficiency and performance for all motorcycles covering longer distances and is ideal for tourers or commuters as you can go far longer between reapplication intervals. Our unique water repellent, ceramic, non-fling formula penetrates deep into the chain link. This creates a durable protective coating which will guard your chain against corrosion and metal to metal wear, in all weather conditions. An added benefit to our unique formula is that it includes a UV Dye, which means you can accurately see the lubricants specific coverage when using a UV Torch. This also allows you to wipe away any overspray that may have otherwise gone undetected.
Endurance Chain Lube means longer intervals between applications, with greater protection for your chain!
Suitable for standard, O, X and Z-Ring chains.
For long distance all weather on/off-road riding.
High performance synthetic formulation for maximum protection.
Ceramic additives increase component life and maximise horsepower.
Contains UV over spray dye
Specifikationer
Din uppskattning av recensionen kan inte skickas
Anmäl kommentar
Är du säker på att du vill rapportera den här kommentaren?
Rapporten har skickats
Din kommentar har blivit tillagd och kommer att vara synlig efter att den blivit godkänd av en moderator.
Din rapport kunde inte skickas
Recension skickad
Din kommentar har blivit tillagd!
Din recension kunde inte skickas