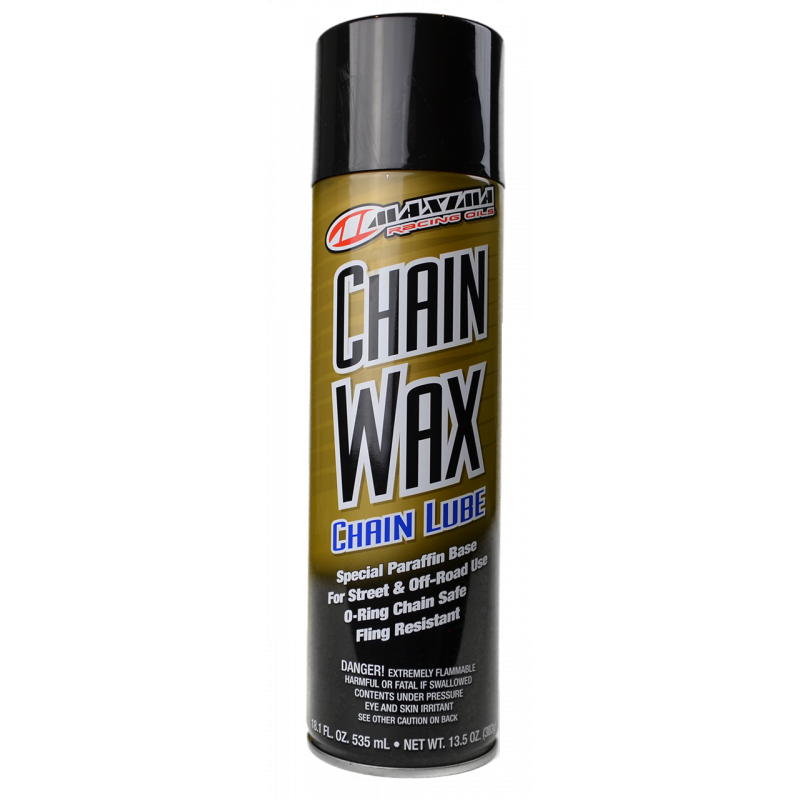  
MAXIMA Chain Wax Chain Lubricant 535ml
VAXBASERAD KEDJESPRAY
 Försvinner inte från kedjan, utan ger ett långvarigt skydd
 Penetrerar djupt in i stift och rullar samtidigt som det skyddar kedjan mot omgivningen

 Minskar korrosion, oljud och friktion
MAXIMA CHAIN WAX is a superior power spray lubricant designed for all chain care needs. It's special ParaFilm™ formula creates a waxy film similar to Cosmoline, offering long term protection especially in water and high humidity environments. Maxima Chain Wax is formulated with heavy duty, anti-wear, and extreme pressure additives that provide superior lubrication for all chains, cables, and sprockets. Maxima Chain Wax penetrates deeply, lubricating non accessible areas, reducing chain stretch and wear. Chain Wax is simply the best choice for all chain and cable care needs.


 Eliminates "fling off" & seals lubricant to chain

 Special paraffin base creates waxy film

 Excellent rust protection

 Safe on all chains including O, X and Z-ring
Finns även i en mindre 218ml flaska.
Din uppskattning av recensionen kan inte skickas
Anmäl kommentar
Är du säker på att du vill rapportera den här kommentaren?
Rapporten har skickats
Din kommentar har blivit tillagd och kommer att vara synlig efter att den blivit godkänd av en moderator.
Din rapport kunde inte skickas
Recension skickad
Din kommentar har blivit tillagd!
Din recension kunde inte skickas